Bosch ADS and ADS X Software Renewal Rebate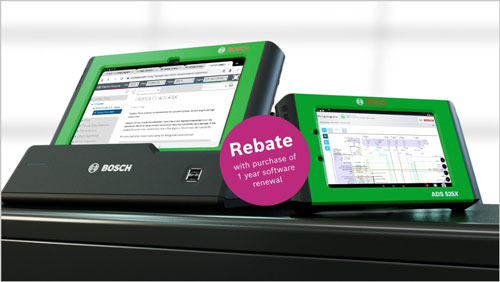 Bosch ADS and ADS X Software Renewal Rebate
Receive a rebate when you renew your software for your Bosch ADS or ADS X diagnostic tool.
Offer valid from July 1, 2022 - March 31, 2023
To Redeem
Purchase a Bosch ADS or ADS X diagnostic payment in full 1-year software subscription ("Qualifying Purchase") during the Promotion Period
Visit www.boschrebates.com to participate
Must be redeemed with all required information on or before April 30, 2023
Information required when applying for offer:

Bosch ADS or ADS X registered serial number for unit purchased and registered during Promotion Period
Bosch ADS or ADS X payment in full 1-year software subscription proof of purchase (invoice / receipt) with part number and purchase date visible
Proof of purchase and/or serial number will be required when registering for promotion. Valid for purchases made by qualifying end-users on eligible products during the Promotional Period. Promotions in this offer cannot be combined and not valid with any other promotions offered by Bosch Automotive Service Solutions Inc. Valid in US, the District of Columbia, and Canada only. This promotion is void where prohibited, taxed or restricted. Allow four to six weeks after redemption approval for delivery of incentive. Terms and conditions apply. For full terms and conditions, visit boschrebates.com. Bosch reserves the right to alter or cancel this promotion at any time.